Saturday, August 10, 2019 at 9 a.m. The Crossing will kick off its 15 annual event. What started as a fun event to swim or paddle across Lake Gaston almost 15 years ago with 25 participants has become one of the signature events at Lake Gaston with hundreds of participants, volunteers, and supporters involved.
Initial planning meetings were held at the old chamber office, where Wakeboard Willie's now resides, and the primary support teams were coordinated. It is a testimony to the quality of avid volunteer support that allows the same support structure that was put in place the first year to accommodate what has grown year after year to a participation of several hundred swimmers, vessels, bridge walkers and the always entertaining "wavers" (groups with creative special ways of crossing).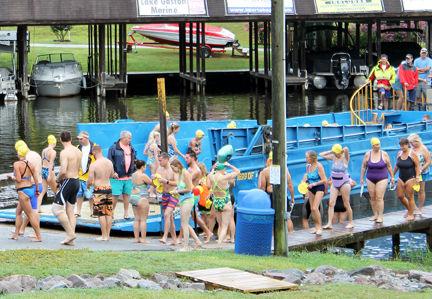 And the effort pays back to the Lake Gaston community. Not only do funds raised get donated back to 501(c)3 nonprofit organizations serving Lake Gaston, (more in a bit) but out-of-town participants rent homes, participants and their supporters eat at local restaurants and shop while they are out and about. Several Chamber members have noted that The Crossing weekend, always the second Saturday in August, is one of the busiest business weekends of the year for them.
Over the past 14 years, proceeds from The Crossing have allowed grants from O'Sail (the event coordinator and 501(c)3 nonprofit) to support: Citizens for Animal Protection, the Coast Guard Auxiliary, Friends of Lake Gaston Association, Helpful Hands and Hearts, KIPP Gaston College Prep, Lake Gaston Chamber of Commerce, 
Lake Gaston Volunteer Fire Department, Lake Gaston Foundation, Lake Gaston Water Safety Council, Lakeland Cultural Arts Center, Littleton Volunteer Fire Department, Longbridge Volunteer Fire Department, Sylvan Heights Bird Park, Warren New Tech High School, and Wildwood Foundation. Most recently O'Sail grant funds were a major contributor to the Longbridge Volunteer Fire Department's project for a new fireboat to serve the lake.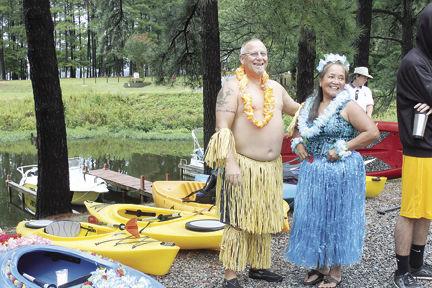 Participants and volunteers are what have made the event special for all involved. From the first year to the most recent, the participants have covered a wide range of intensity and fun. Some swimmers cross in mere minutes (less than 20) and then there are those who have an enjoyable and more leisurely time. Swimmers' ages have ranged from as young as 4 to those in their eighties. We have even had a paraplegic wounded warrior make the swim. Cedric King was an awesome display of courage and determination. My son, Trent, and I chaperoned his swim and it was an experience we will not soon forget. It is a highly diverse group just having a ball in their own way. 
One of the regular participants is Holly McCall. McCall is a Ph.D. Chemist who travels to labs throughout the US and Canada to teach them how to operate their Mass Spectrometers (you know, those things they use on CSI). Most of the labs are testing for pain medicines, vitamins, or hormones in biological fluids. She lives near Reston, VA just outside of Washington, DC. McCall first learned about The Crossing from her dad, Bill McCall, in 2005. In the first year her dad, sister, and her took the boat down to Eatons Ferry Bridge and parked along the line blocking the bridge. They sat in the boat, enjoying the sunshine and cheering folks along as they swam past. A few years later, they decided to swim. McCall has swum several times between then and 2018 sometimes with a standard life jacket, some with a life belt, and some without any additional floatation device. She has participated with folks wearing flippers, trying to use pool noodles, and a variety of other options. For McCall, participating in the 
Crossing has always been a fun family and community event. Her dad joined in the swim for several of those years, and her mom, Jean, has done it almost every year. When her grandfather was in his late 70's, her mom had him join her in the walk across the bridge. Her Grandma came along last year on the boat with her binoculars so she could watch us make the swim, and joined us at the finish line for a hug. Many of the years, they have participated with neighbors, the Heycocks. McCall's mom and Rosanne can often be heard chatting away as they make their way across the lake. Holly has made some friends out on the water, they encourage each other to "just keep swimming, just keep swimming, just keep swimming." She says, "When you get to the finish line, you feel accomplished by what you've done. Your legs might feel a little wiggly, but you walk up on that mat and realize, I did it! I made it 1 mile across this lake! Then you walk around proudly sporting your numbers on your arm the remainder of the day, and sometimes the next day (if you don't scrub hard enough)." McCall thinks people should know The Crossing is meant for everyone. You can be an active participant, and swim or float or walk. Or a passive participant and cheer on those who are doing the activity from water or from land. 
As McCall has said, The Crossing is fun for all and can be a family event, youngsters too. Avery and Teagan Evans are from Raleigh and have participated for many years. Avery is now 14 years old and first participated when she was 3 riding in a kayak with her dad, Les. Every year after that, she has swum the one-mile course with her mom, Jenny. This will be her 11year at The Crossing and her 10 year swimming. Avery loves seeing all the different ages of people who come to join the event. Like Holly, Avery loves the satisfaction of finishing the swim after all that work and walking out when everyone's cheering. She would say, "How many times do you get to say you swam a mile across a lake, and you get a t-shirt!" The Crossing is a very fun experience for Avery, which she hopes to continue doing for a very long time. Teagan is now 10 years old and first did The Crossing in 2010 at 18 months old in a floaty behind her grandfather's kayak. Everyone else in the family was doing it so she thought it sounded like fun. Teagan has been back every year since. She has canoed, kayaked, floated and walked (and run) across the bridge. Teagan's favorite part has always been at the end or when she crossed the lake. She encourages others saying, "It's fun and it makes you exercise and you can do it with your friends and family."
The Crossing is one event jam packed full of fun, friends, family and the satisfaction of accomplishment.
The folks in vessels are equally diverse. Kayaks, standup paddle boards, canoes and pedal boats have been joined by a hydrofoil, Huck Finn type rafts, a team of ponies, a lady with a parasol being paddled across by a gentleman, sharks, porpoises, all sorts of boats and an amazing assortment of inflatables paddled individually or by groups. The margarita mamas are regular fun-loving participants. The age range of vessel and "waver" participants has been even wider with participants as young as 18 months. So many people walked across the bridge to follow and root for their favorite participants that we added the walker category so they too could earn a coveted The Crossing t-shirt. It is all in fun and the smiles and satisfaction on the faces of participants at the finish make it very special.
It takes over 100 volunteers to make The Crossing a success each year. What has become a trademark of the event, the barge, was not involved in the first few years. We knew we needed a way to get the swimmers off to a safe and organized start, so in the first few years we ferried swimmers from the shore to the start on a pontoon boat. It took multiple trips. It was Eddie Hardee who observed an early event and came up to Kathy Dikeman, lead organizer; to say he had a boat that he thought could handle all the swimmers in one trip. Really? How many could his boat hold? Well, maybe 200. It was a deal and for subsequent years the Shoreline Specialist's landing craft has become the swimmers' transportation from the shore and their starting platform. 
When The Crossing began and until the present, safety is of paramount importance. Coordination of the activities on land belongs to Kathy Dikeman, lead organizer. Jane Teasley of the Lake Gaston Coast Guard Auxiliary initially coordinated the water coverage and support. The water support includes volunteers manning a blockade to water traffic along both sides of the bridge, US Coast Guard boats and NC Wildlife Officer boats for enforcement if needed (and it has been), PWCs patrolling, and Littleton VFD and Roanoke Wildwood VFD on-water rescue support. The on-water support teams are now coordinated by Dave Blodgett of Lake Gaston Outfitters and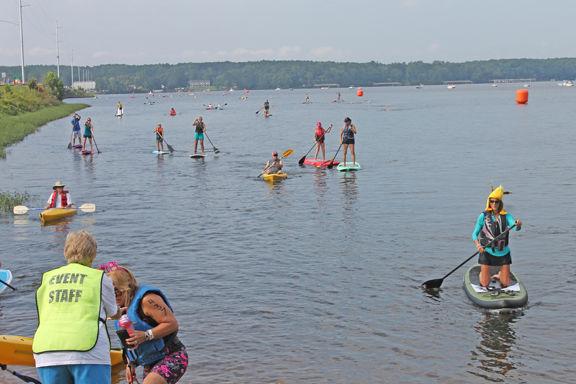 have been for the past few years. (By the way, Dave would be happy to rent you a kayak for The Crossing if you need one). These on-water support teams all insure that all participants are escorted safely across the lake and are supported effectively should unexpected issues arise.
We couldn't make the event happen, of course, without the ongoing support of The Pointe, our starting point, and Watersview, the finish. They have been gracious in providing access to their properties. The Lake Gaston Lions Club provides volunteers to help with participant traffic direction, unloading of vessels and finish area support. The Longbridge VFD coordinates traffic on the bridge to provide one lane of safe passage for walkers. Thanks to the Lake Gaston Food Lion staff we have had bottled water and fresh fruit available to all participants every year at the finish, a welcome treat. The Warren County Rescue Squad is on hand with EMTs if needed. AF Wake has been an active supporter each year and currently helps set out the buoys to mark the course from start to finish. And it wouldn't be The Crossing without the welcoming voice of Brady Martin of Halifax EMC to pep up the starting crowd.
The 15 annual event will include a special edition t-shirt for all participants as well as refreshments for finishers. This year will also provide special recognition trophies for the following: the organization with the most swimmers, the organization with the most vessels, the organization with the most bridge walkers and the top 3 judges favorite "wavers."