Newlyweds Jennifer Keagan and Robert McGregor donned their wedding garb on Sunday to ride some waves and trash the dress with AF Wake.
Trashing the dress, or rocking the frock, is a modern wedding trend in which the bride and groom pose for non-traditional pictures while oftentimes getting messy in the act. 
"I saw some pictures of a couple wakeboarding in their wedding attire," Keagan said. "I thought this was the best way to trash the dress that embodies who we are."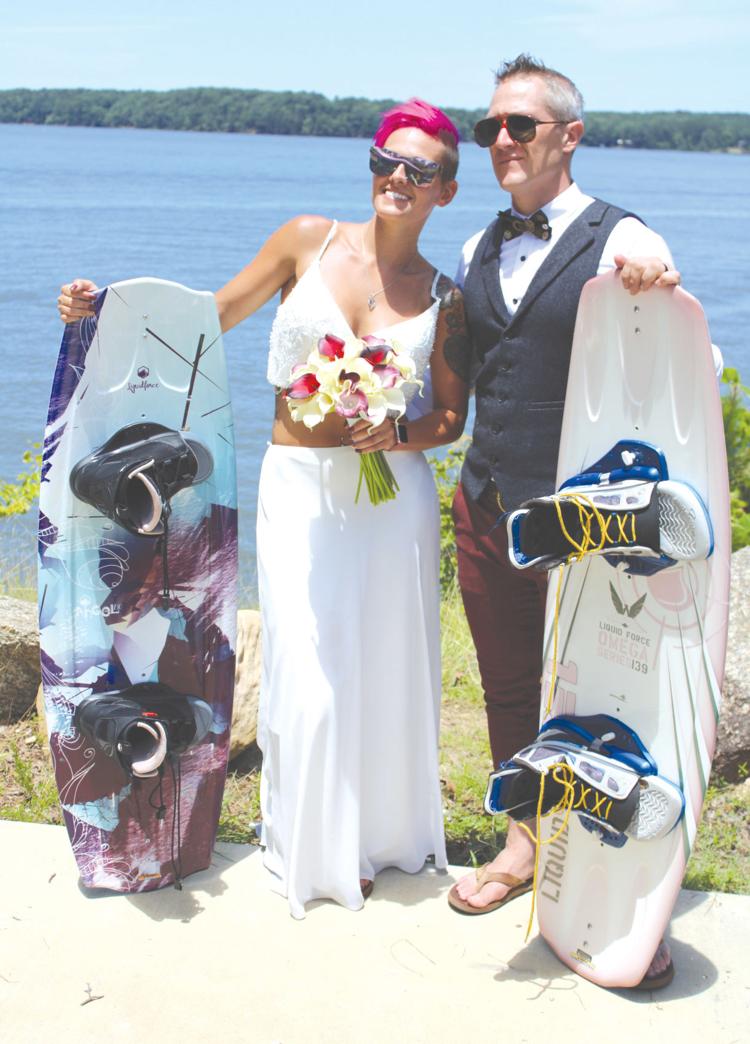 Keagan and McGregor are both extremely active and adventurous, and because Keagan's parents, Jaynne and Kevin Keagan, live on the lake, the couple spends a lot of time on the water. 
"We both do all water sports including wake surfing, wake skating, and knee boarding," Keagan said. "Pretty much anything on the water, we do." 
Keagan and McGregor also snowboard in the winter, but "definitely prefer being on the water."
"Trashing the dress the way we did was really who we are," said Keagan. "We are hoping to retire at the lake in a few years, once Rob retires from the Navy. That way we can be on the lake all the time and really perfect our love for wakeboarding and other sports."
Keagan started wakeboarding a few years ago after her parents got her lessons with AF Wake. After her first lesson, she was hooked. Soon after, McGregor was, too, and they returned several times to ride with the crew at AF Wake. 
"We both tried it a few times before," McGregor said, "but we really got into it together."
The bride's dress, which was slightly stained with a pink smoke bomb from an earlier photo shoot, may have came out of the crisp Lake Gaston water a little brighter than when they first jumped in. 
In this case, the attempt to trash the dress may have had the opposite effect. McGregor said that swimming in a wool vest and bow tie posed a challenge when trying to tilt his head to keep it out of the water. McGregor's white shirt may have also come out of the lake a bit cleaner than when he jumped in.
The couple was married at Keagan's parent's house in Eaton Ferry Estates on Saturday. Keagan and McGregor both reside in Virginia Beach full time, but visit Keagan's parent's house on the lake most weekends. 
Originally from West Virginia, Keagan is an entrepreneur, owning and working as a personal trainer at Balanced Fitness. McGregor, originally from California, is active duty Navy currently serving as a career counselor, but was originally an aviation technician. 
The McGregors are going to Asheville for a honeymoon now, but are planning a big European trip once Rob retires.